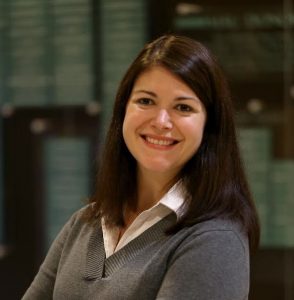 Dr. Bree E. Holtz is an Assistant Professor in the Department of Advertising and Public Relations in the College of Communication Arts and Sciences at Michigan State University. She serves as the primary investigator for all MyT1D projects. These projects aim to ease the burden of type 1 diabetes through development of communication tools for kids with type 1 diabetes and their parents.
Dr. Holtz's broad research interest centers around understanding the adoption of information communication technologies and its impact on health care access and delivery. Her prior research has examined the use of mobile phones in asthma and diabetes management, online health literacy, adoption and utilization of telemedicine technologies in a health setting, and using innovative telecommunications technologies to improve access to health care.  Her current research interests include understanding the implementation and utilization of mHealth technologies while improving patient centered care.
Holtz received her master's degree from the London School of Economics, her PhD from Michigan State University, and completed a post-doc at the Center for Clinical Management Research, Ann Arbor VA Healthcare System. She has published work in communication, technology, and medical journals. Dr. Holtz's research is funded by the American Diabetes Association and Health Resources and Services Administration.
In addition to Dr. Holtz, the research teams comprise of medical doctors, nurse practitioners, researchers in communication and nursing, and expert web development companies.